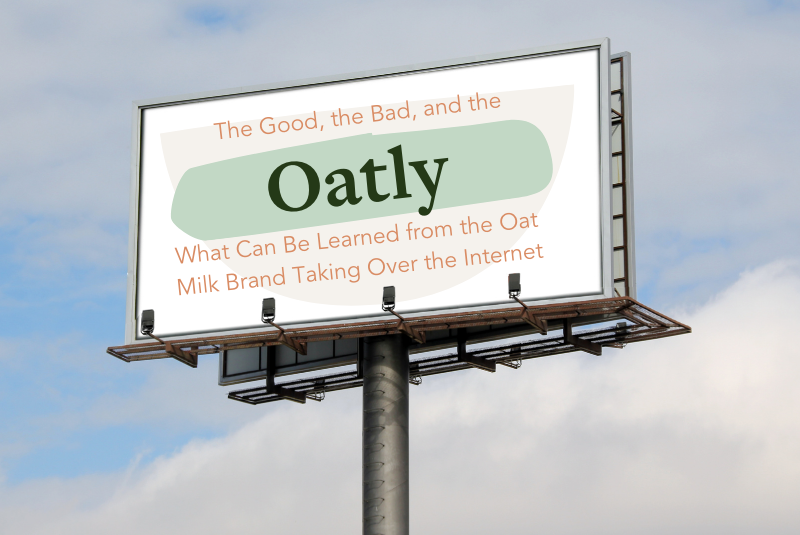 While milk made from oats might sound bland, the buzz surrounding Oatly is anything but. 
After nearly twenty years on the market, it's the brand's recent marketing efforts that have been largely heralded as  "unconventional", "self-reverential," and "anti-establishment".
Oatly simply calls itself "milk but made for humans", taking a direct, matter-of-fact approach in its slogan that extends to all of its advertising, which includes a number of out-of-the-box projects.
For example, after discovering that the Swedish company shares its name with an obscure lake in rural Michigan, the Oatly team made the trans-continental trek to the States and walked around Mesick, Michigan, asking questions. Apparently the answers were interesting enough to be made into a podcast. As Oatly writes in the extremely candid and lengthy account of this trip on their website: 
"There was no real story here per se, which the podcast producer had warned us of all along. And the prospect of any kind of newsworthy marketing stunt—a 'takeover,' a sponsorship, an Oatly Lake pop-up store—seemed unlikely. But we had made new friends and seen nice places, and maybe that was enough."
Another notable—and entirely different' campaign told the story of Norm and Al, two puppets interested in adopting a more plant-based diet. As if this idea wasn't outlandish enough, Oatly actually made "The New Norm&Al"  into a mini-series, still available for viewing on Youtube. One of the lesser-known highlights of this campaign – customers were given the chance to score free coffee and oat milk if they said "I like puppets" at one of 35 participating cafes around Australia. 
There have also been jingles, industry-focused Insta accounts, unique package design, and more. 
One thing all these stunts have in common is the writing, which really should be put in a category all on its own. Notable one-liners include:
"We made this poster so that you would find this to put in your coffee"

"You actually read this? Total success." (

source

)

"Did you know the Oatly researchers who invented oat drink back in the 90s made sure it tasted good so people might switch from cow's milk? This photo of a palm tree doesn't really have anything to do with it other than providing something nice to look at on this Monday morning." (

Tweet

)
This meta marketing may have reached its peak in October of 2021, when Oatly released a video… and a billboard… and a boat sign… and a bus sign… and… well, just watch:
Oatly's outlandish ads have had no trouble getting people talking, but not always for the right reasons. 
At one point, Oatly drinkers who drank the product for health-conscious reasons were up in arms after an article claiming that Oatly is a healthy alternative to animal milk was criticized in a tweet, which soon after went viral. 
I'm still in awe that Oatly created super sugar grain juice, cut it with canola oil, and then successfully used (amazing) marketing to convince everyone that no, this is Good https://t.co/yO7dDwu47U pic.twitter.com/nMkScwPRP1

— Katherine Champagne (@keccers) April 5, 2021
Separately, those who drank Oatly for sustainability reasons have also come after the company for signing a $200 million deal that included investment from Blackstone, a Trump-linked private equity firm that is also a part-owner of two Brazilian companies accused of contributing to the destruction and deforestation of the Amazon (source). 
Allegations of greenwashing linger in response to Oatly's marketing— jabs that are all the more important after the company went public last year. Still, oat milk is largely recognized as a more eco-friendly alternative to cow's milk, as it requires much less water and oil to produce and transport. 
Speaking of cows, vegan Oatly drinkers took issue with at least one campaign, which featured limited-edition pins with sayings like "100% vegan, 10% of the time" and "Justice for planet earth from 8-9 am". Oatly's thinking behind these was likely to rally those who eat mostly plant-based, climatarians, flexitarians, etc., and to capitalize on a shift in dietary trends that the company is branding as the "new normal" (source). 
Many vegans saw this as an insult to Oatly's most loyal, longstanding supporters, along with a slight to the entire movement of veganism, which millions adhere to for reasons relating to the global climate crisis and animal welfare. While the post has since been deleted, Reddit remains, along with countless miffed, full-time vegans.
What You Oat to Know
All in all, despite the backlash, despite the absurdity and the puppets and the "I-just-don't-get-it"s surrounding Oatly, it's impossible to deny that the brand is redefining modern marketing with everything it publishes. The Oatly Department of Mind Control – that's Oatly's marketing department (but they don't want you calling it that)—offers up some of the most poignant, creative, subtly-skillful content to ever exist. Oatly proves:
Customers crave honesty, and expect you to maintain it.

Oatly is constantly opening itself up so that everyone can look inside, and what we find is weird, funny, and endearing—perhaps just like us. Oatly's transparency is refreshing, but once that door is open, it can be difficult to shut again. People now expect honesty out of this brand, which might be a reason why the allegations of greenwashing and lack of understanding seem so personal.

We're just a bunch of kids with paychecks. 

Oatly invested what I would assume is hundreds of thousands of dollars into a puppet show for adults. Their branding is casual, playful, and one might even say, familiar. Oatly proves that while flashy ads and carefully crafted branding are great, they're not always necessary. Don't overthink who your audience is, and don't underestimate the power of relatability.

Expect the unexpected.

What does saying "I like puppets" at some random cafe have to do with oat milk? How did anyone convince the CEO of this company, valued at around $12.5 billion, to

sing a jingle

for the biggest advertising event of the year? The traditional principles of marketing were clearly thrown out (or should I say—oat?) of the Oatly Department of Mind Control. Oatly does what it wants, whatever that may be at any given moment. The result is an exciting, innovative brand that doesn't take itself so seriously; and that is extremely refreshing.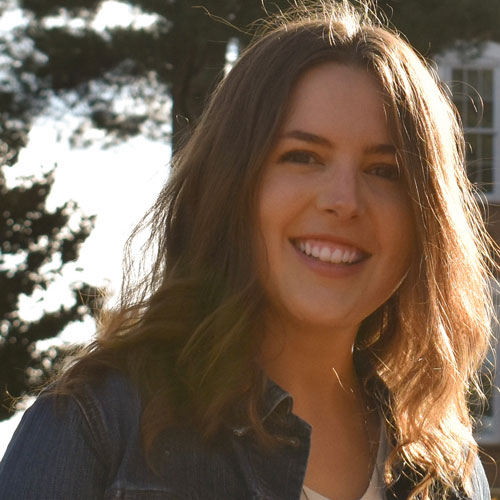 Julia Regeski
Social Impact Strategist
Julia Regeski is a content creator who believes that everyone's story deserves to be told in a way that's intentional, compelling, and authentic. Her work experience has been focused on advancing meaningful social causes, and includes advocating on behalf of Georgia's environmental resources and bringing together nonprofits in the wake of natural disasters. When she's not using her communications skills to try to make the world a better place, you'll likely find her reading, practicing yoga, or adventuring in the great outdoors.