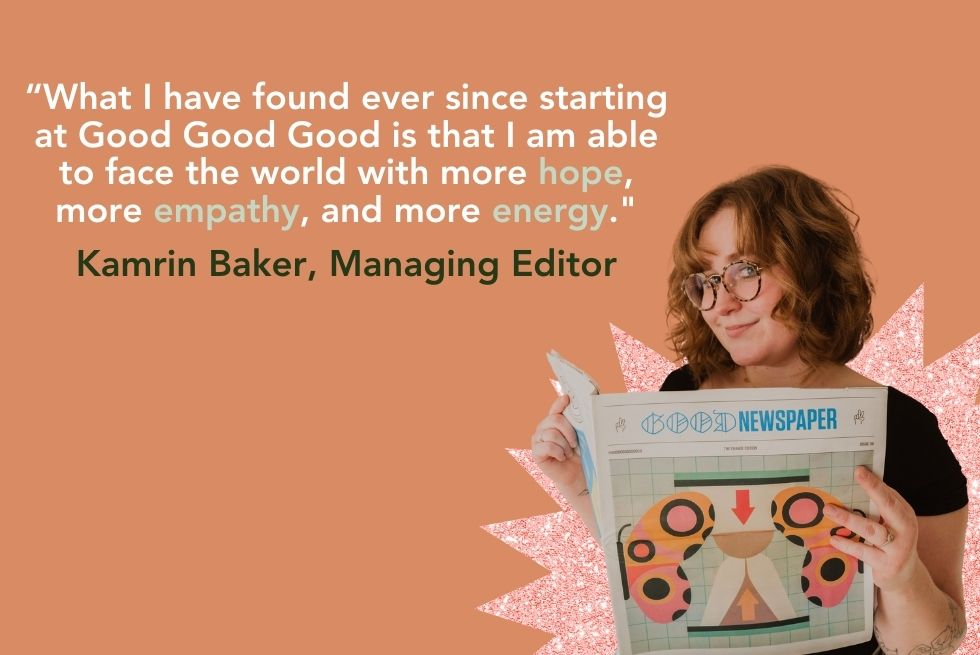 Kamrin Baker is a strategic storyteller with a knack for finding the heart of people, causes, and organizations. As the Managing Editor of Goodnewspaper, Kamrin tells stories that inspire people around the world to "do more good". Her work has been published by Huff Post, MTV, and Omaha Magazine, among others. We spoke with her about what this work entails, how she got here, and her hopes for the future. 
How did you realize your passion for storytelling?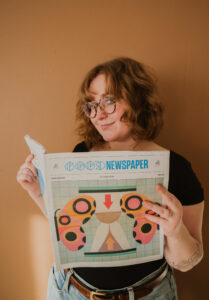 I have always been a storyteller. When I was in elementary school, I would type up Word document stories on the family computer in pink and purple fonts and read them out loud to my class every morning. This later turned into me pursuing journalism classes in high school, and ultimately, a journalism degree in college. I was the editor-in-chief of my college newspaper but realized that I didn't want to follow a standard "news" trajectory as a reporter. I love creative nonfiction work; being able to tap into my unique perspective while still telling a true, compelling, authentic story.
Can you tell us about your current role with Good Good Good Co.? What does an average day look like?
I work remotely from my apartment in Omaha, Nebraska, and the rest of my team is scattered throughout the United States. The fun part of that is I get to essentially choose my own schedule, as I balance Good Good Good Co. work with my other freelance clients and projects.
On Mondays, my team gathers to check in and work together on editorial calendars, projects, and more. The next four workdays are usually full of writing. I oversee the production of the Good Newspaper and write a good majority of the stories, alongside my junior editor. When I'm not working on the print publication, I write digital stories for the website. I have a lot of creative freedom but also feel comfortable and confident working with my team to create the best possible content and tell important stories.
Why do you think the world needs feel-good news right now?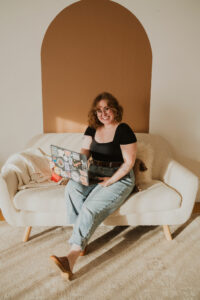 So, one component of the Good Good Good ethos is that we don't actually want to find "feel-good news," but rather "real good news." Our mission is to find the people, organizations, grassroots movements, and leaders who are creating real solutions to systemic injustices. Sure, we love a good story about an individual serving their community, or a therapy dog who helps one kid find their purpose, but the real beauty of our work is finding helpers who are confronting some of the big, scary problems we all face these days. 
That being said, I think our world needs good news because we are often surrounded only by the bad stuff. Or, the bad stuff seems to overshadow all the good. TV news shows footage of bombings and global crisis. Our newsfeeds are filled with overwhelming reports about microplastics and looming climate change. Our work does not negate all of that important journalism, but it does add another layer to it. 
"What I have found ever since starting at Good Good Good is that I am able to face the world with more hope, more empathy, and more energy. Now, when I read a story that makes me feel scared or overwhelmed, my initial reaction is no longer "oh my god, the world is going to end," but rather, "dang, this sucks. I wonder who is doing something about it. I am going to find them."
What does "do more good" mean to you?
Doing more good is the skill of tapping into our privilege, our strengths, and our empathy to extend our humanity to others. In the Goodnewspaper, we share good news, and then we have "good bars" at the bottom of the page where readers can find more resources to continue the good work of those we feature in the stories we write. This can be anything from watching a documentary, donating a few dollars to a mutual aid fund or nonprofit, to serving at a food bank, starting a community garden, or calling your representatives. 
I have found that by actively seeking good news (which is made easy when you read a whole newspaper focused on it!), readers are given the opportunity to tap into their
emotions, sit with the information they have consumed, and use it to continue finding solutions, supporting their neighbors, or advocating for systemic change. When we are crowded by not-so-good news, we lose our energy to feelings like worry, fear, and overwhelm. Consuming traditional media is necessary, but carving space for real good news allows us to do more good with our time, energy, and heart.
What is your favorite piece from Good Good Good Co. since you joined as Managing Editor?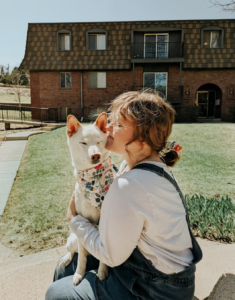 Oh gosh, there are quite a few! My current favorite is actually the opening letter to the Animals Edition of the Goodnewspaper, where I write about how my dog has taught me to bea more caring and intentional community member. You can read this by subscribing to the paper and reading the May issue!
As far as digital pieces, however, two of my favorites are a comprehensive guide to finding a therapist, and one about a Ukrainian Etsy seller who used her art to help her community in crisis. Both of these are stories that extend real support, and contain valuable information that will improve the lives of people who are in need of these resources. 
What are your dreams for Good Good Good Co. in the coming year?
I am so, deeply fulfilled doing the work that I do, so it's hard to dream bigger sometimes! For the organization as a whole, I simply want us to grow and scale so we can put more good news in front of more people who care about our world and each other.
What brings you joy outside of your career?
My dog. Full stop. Mirio the shiba inu (@miriotheshiba). Also: my partner, Tim, reading, going on nature walks, and a good soft pretzel.
If you could offer advice to a past you—when you were a budding journalist—what would you tell her?
The job you want and the work you might want to do might not exist yet. Give it time. Read. Write. Edit. Rest. The world is a beautiful place, and it is a privilege to tell stories about it.
You can read all of Kamrin's digital work here.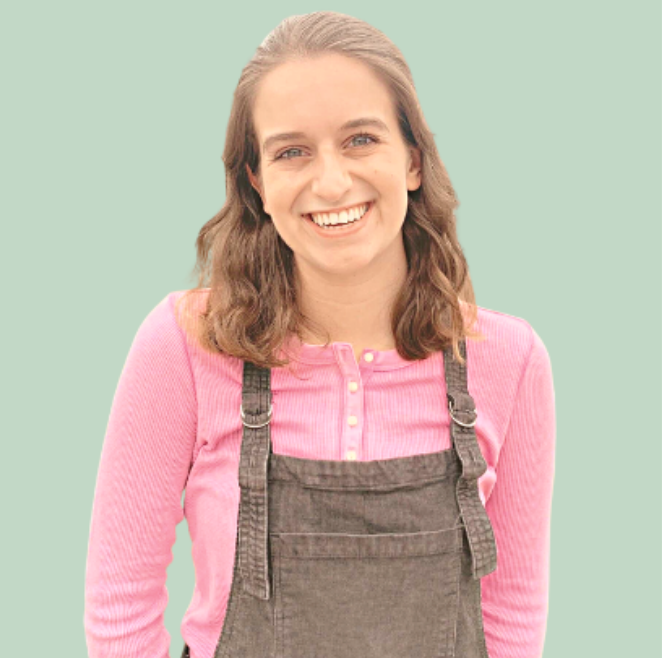 Valerie Weisler
Content Strategist, Juniperus
Val Weisler (she/her) is a community builder and activist from New York. She's a sucker for a good story, and loves collaborating with changemakers to make sure their stories are amplified. Through grassroots fundraising, content strategy, and too much coffee, Val has grown her youth empowerment organization, The Validation Project, into a global, award-winning movement of 40,000 K-12 students over the past 8 years. And as State Voices' Digital Training Manager, Val oversaw the rollout of new digital organizing tools and strategies for the State Voices network.
Val's work has been featured by Glamour, CNN, Oprah Magazine, and more. She holds a B.A in Education Advocacy and a minor in Spanish from Muhlenberg College. She can quote Mamma Mia! word for word, and makes a killer chicken parmesan.