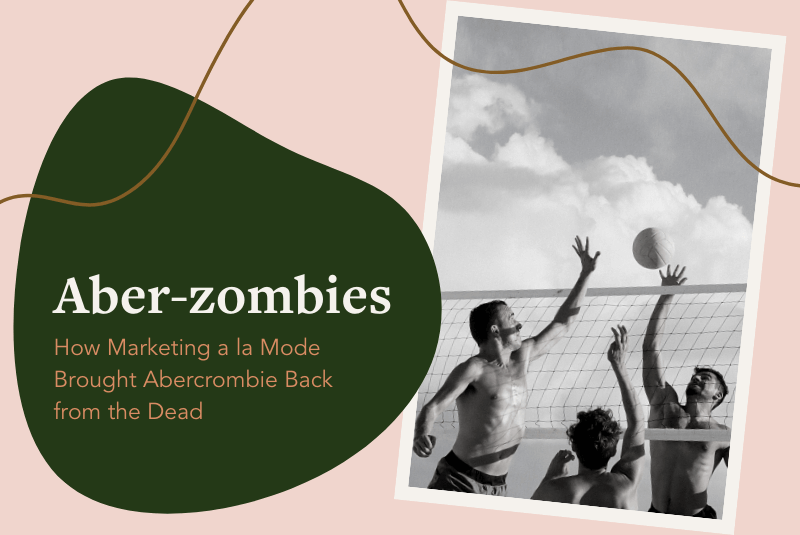 An All-American Sort-of Success Story
What do Ernest Hemingway, Theodore Roosevelt, Charles Lindbergh, John F. Kennedy, and millions of millennial women have in common?
Apart from being cultural powerhouses with immense buying power, they all once shopped at the outfitter infamous for its scantily-clad staff, powerfully-perfumed stores, and complex history – Abercrombie.
Founded in 1892 as a hunting and fishing retailer, the brand now known as Abercrombie powered through multiple ownership changes as well as the great depression in its early days. A severe slump (the foreshadowing first of several) came upon the company in the 1960s and '70s, when managers failed to take advantage of new, mandatory marketing channels like television. ultimately filing for bankruptcy. Some big names swooped in to save the day, with Oshman's Sporting Goods (now a part of Sports Authority) buying Abercrombie in 1978, followed by Limited Brands (owner of the soon-to-be similarly admonished Victoria's Secret) securing the bid in 1988.
The Abercrombie most modern readers know and love began taking shape in the 1990s when Mike Jeffries joined the team as CEO. Major changes made by Mike included an aggressive focus on the teen market and bringing on photographer Bruce Weber, who began capturing the brand's iconic racy photos. Little did Jeffries and Weber know, their photoshoots wouldn't be the only thing heating up as the years went on. 
Why-oh-Y2K did things have to go wrong
While there is certainly value in describing the Abercrombie business as objectively as possible, reporting facts and figures about their growth over the next two decades under new leadership, I find that, as a writer, I have to disclose that I may carry a little bias here.
Throughout my teen and pre-teen years, Abercrombie wanted me as badly as I wanted them. They wanted all teens, really, but what made them different than other brands is that they seemed to know how to get us hooked, apparently as effortlessly as the models lounging about in their ads.  
Walking into Abercrombie didn't make you feel like you were being marketed to, it made you feel flat-out cool. As soon as you came through the establishment's lightly distressed navy doors, you belonged to this dreamlike land of teenage opportunity that was familiar yet otherworldly, elite yet enchanting. 
The store wasn't a store at all, it was a friend's parents' home in Northern California, carefully and classically decorated in the darkest of hues and lushest of tropical fronds. The music—blasting at a volume sure to drive out every parent as soon as they handed over the credit card – somehow always hit the right tone, somewhere between the top 40's, a Gossip Girl shopping montage, and that cool alt band your friend introduced you to last weekend. The scent—luscious and rich and on sale for a limited time; the lights—low and warm and flattering; and of course the clothes—branded to the last stitch and a quality and price far beyond anything we'd ever experienced in Old Navy. 
In summary, it was welcoming enough to draw nearly every socially-savvy teen through the doors (as if the models greeting you didn't do that already), but unfamiliar in a way that coolly glibbed, "you don't really belong here, but maybe if you buy these jeans…"
Timeline of Trouble
Under Jeffrie's leadership, Abercrombie's elitist attitudes spread beyond just the implicit. In a 2006 article with Salon, he explained:
"Candidly, we go after the cool kids. We go after the attractive all-American kid with a great attitude and a lot of friends. A lot of people don't belong [in our clothes], and they can't belong. Are we exclusionary? Absolutely. Those companies that are in trouble are trying to target everybody: young, old, fat, skinny. But then you become totally vanilla. You don't alienate anybody, but you don't excite anybody, either."
A few years prior, the company had come under fire in 2002 for producing shirts depicting disturbing Asian stereotypes.
Just a year later, a class-action lawsuit was filed against the company for discrimination against Black, Asian American, and other non-white applicants. Claimants described being let go, alongside peers who were of the same ethnicity, after a corporate employee said their store needed to look more like the typical (read white) Abercrombie model. The case was settled in 2004, with Abercrombie admitting no wrongdoing but agreeing to pay $40 million to the plaintiffs, hire 25 inclusion-focused recruiters, and increase diversity in its hiring process, ads, and catalogs. 
Unfortunately, the trouble continued, this time for the CEO directly. According to a 2012 suit, a pilot for Jeffrie's private jet claimed age discrimination on board, as well as  employees being forced to follow a mandatory dress code of boxer briefs, jeans below the waist, and a "spritz" of Abercrombie cologne. Amid limited public details, the brand eventually settled.
At this point, Abercrombie had grown to more than 1,000 locations and upward sales of $4.5 billion by 2012; but after more lawsuits, public outcry, and a petition with more than 79,000 signatures asking Abercrombie to "stop making teenagers feel worthless" by encouraging eating disorders and unhealthy choices, Jeffries finally stepped down in 2014.
The damage was not quite done, however. In 2015, the Supreme Court revived an old lawsuit against Abercrombie, which involved a Muslim refused employment because they wore a head scarf in. And in 2017, Jeffries' friend and favorite photographer, Bruce Weber, famous for capturing the brand's iconic black-and-white images, came under fire.
Allegations against Weber first became public in 2017, when a former model sued for inappropriate behavior, including unwanted touching and kissing. Over the next month, more than 16 individual current and former models accused Weber of sexual harassment, claiming "unnecessary nudity and coercive sexual behavior" during professional photo shoots. Legal filings not that all the accusations were recalled with "remarkable consistency." Weber denied all claims.
More than Re-modeling
By the late twenty-teens, it appeared that Abercrombie had finally accepted that change was called for. Under the fresh guidance of CEO Fran Horowitz, it was less of a change and more of a complete overhaul. 
On the surface
Horowitz got started by shutting down 23% of Abercrombie's existing store base and strategically re-opening where it made sense. The new stores are not only 30 to 50 percent smaller than previous locations, but she claims they also " better reflect the modern Abercrombie & Fitch to clean and open sight lines and improve functionality that supports the digital nature of our customer."
Between the seams
In an article with Forbes, Horowitz explains that Abercrombie "refined our design calendar, re-balanced our vendors, and expanded countries of origin. This has enabled us to move quicker and further improve the quality of our product."
Despite Horowitz's best efforts, the "quality" of the product isn't good enough for Good on You, a popular online resource that ranks fashion brands on how sustainable and ethical their practices actually are. Abercrombie scored a 2 out of 5 in all categories.
But with today's consumers taking more time to research before buying, how to hook in this new generation of customers might come down to one thing—marketing.
For the People, Buy the People
Targeting the Target-lovers
Abercrombie has aggressively attempted to reclaim the group it had so hooked just a few years ago – millennials, in part by ditching the mostly-white shirtless male model greeters, dimly-lit stores, and over-sexualized marketing, reports Forbes. Hollister, an Abercrombie subsidiary has similarly set it sights  on Gen-Z.
This repositioning is smart, as it provides clothing and content likely to appear to the new lives of the brand's more aged customers. Their "Best Dressed Guest" collection is meant to provide outfits perfect for weddings and special occasions, and many Abercrombie outfits have been marketed to work in the workplace—approaches that wouldn't have made sense to teens of the mid-aughts.
Is it haute in here? 🤩 @HauteHijab looking amazing in new A&F denim.

Shop jeans: https://t.co/1DIWdXCtWw pic.twitter.com/viJ4cG3DaP

— Abercrombie & Fitch (@Abercrombie) February 12, 2020
It's not just Abercrombie's shopping categories that have gotten a facelift, either. New faces of all shapes, sizes, and colors can be seen in the brand's imagery, with recent campaigns being lauded as "their most inclusive yet." But don't take the models' word for it…
Going Viral, Not Vintage
Social media has been one of if not the most powerful tool in Abercrombie's resurgence. Both organic and paid content has been critical in connecting the brand to new customers, primarily on the ever-growing channel TikTok. According to Digiday, Abercombie worked with an agency to give creators as much creative freedom as possible, presumably as a part of a reinvention of the brand's voice as "real." One of the most popular creators to help raise Abercrombie from the dead is Remi Bader, who repeatedly comes "back again with another realistic Abercrombie haul." Bader gave a real review of new products, lauding the brand when their recently-expanded sizes fit just right and offering up a trademark "noOoOo" when they do not. 
While Bader is a clear cheerleader for Abercrombie, it's worth noting that she is also a fierce advocate for inclusive fashion and body positivity. Is her partnership with the brand emblematic of real, meaningful changes in company culture, or is it simply smart marketing?
Button Up, Buttercup
On the surface, Abercrombie is good. It's doing a good job communicating all that it's doing to disown its days of discrimination. It's doing a good job bringing in more faces in its visuals so that it can bring more faces into its stores. It's doing a good job keeping up with modern marketing trends in order to reclaim its spot as the "it" store and make mall fashion cool again. 
But not everyone is convinced. Investors think the company's 2022 fiscal targets might need more caution.
The documentary White Hot: The Rise & Fall of Abercrombie & Fitch, which came out this April, reminded customers new and familiar of the brand's questionable past. And with so many other options out there at this point, options that are sustainable and transparent and industry-disrupting and simply not a company that caused so much harm to so many over the years, one can't help but wonder if Abercrombie has really changed, or if drama is just in its jeans.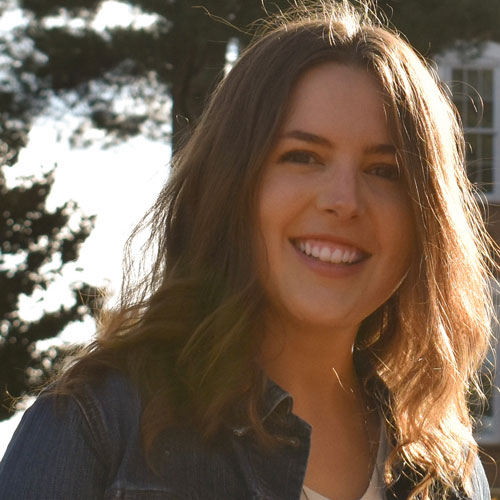 Julia Regeski
Social Impact Strategist
Julia Regeski is a content creator who believes that everyone's story deserves to be told in a way that's intentional, compelling, and authentic. Her work experience has been focused on advancing meaningful social causes, and includes advocating on behalf of Georgia's environmental resources and bringing together nonprofits in the wake of natural disasters. When she's not using her communications skills to try to make the world a better place, you'll likely find her reading, practicing yoga, or adventuring in the great outdoors.