Juniperus is excited to spotlight the newest addition to our team – Valerie Weisler! Val will be supporting Juniperus by developing social media strategy and managing several channels.
"I'm pumped to dive into the Juniperus social media and see what stories we can share there," says Val. "I have a history in social impact and getting to merge that with marketing to support the agency's beautiful client community is a career love story for me."
A Truman scholar, L'Oreal Woman of Worth, and so much more, Val will certainly bring valuable know-how to our agency. Read on to learn more.
Tell us a little about yourself! Where did you grow up and go to college?
I grew up in New York (and my specificity about bagels and pizza will confirm that for you). I attended Muhlenberg College in Allentown, Pennsylvania for my undergrad and fell in love with Allentown the minute I arrived. In between studying Education Advocacy and Spanish, I explored all that the city had to offer. My love for exploration took me to Seville, Spain, where I studied for five months, and now it's taken me to Belfast, Northern Ireland, where I'm completing a Master's!
Did you always know you wanted to be in marketing or did something in particular lead you there?
I started a youth empowerment organization, The Validation Project, when I was 14. I knew that the fastest way to reach my generation was social media, and I have always loved storytelling. I taught myself how to use social media to amplify my message, and it took my organization to a global scale. Now, marketing has turned into one of my biggest passions!
What are some notable ways that you have seen the marketing industry change over the past few years?
I'm seeing more conscious and sustainable space for community and vulnerability.
More people are using their platforms to get deep, and it is powerful to see how that can foster community for those who resonate with that deepness, whatever sphere it might fall into.
What's your work process like? When and how do you feel most creative?
I feel most creative when I am collaborating with others – hearing what matters most to people, what their goals are, what questions they have. (A chai latte tends to help my creative juices flow, too).
Do you have a favorite type of client that you enjoy working with?
I love working with clients that feel comfortable to ask the questions, share the ideas, and dive into their goals.
What are some of the challenges you've encountered as a woman in business?
I've navigated the combo of ageism and sexism for quite a while, since I've been in the working world since I was a teenager. I've worked hard to build a support system of others who lift each other up, and having that community has helped me feel confident in who I am and what I offer.
What more do you think needs to be done in supporting women in business?
Right now, my biggest issue is to pass a national paid leave program that gives the time off that new parents deserve and to end the wage gap, with acknowledgment that it is also a race issue: women of color earn significantly less than white women.
What is the most important thing that the pandemic taught you?
It's taught me that a change of plans is scary, but sometimes needed. I was supposed to go to graduate school in fall of 2020, but instead, I got to spend five months taking care of my nephew, Ezra. I lived with some of my best friends, and I worked for an awesome voting rights coalition. Now, I've entered graduate school with more skills and memories to hold in my pocket in this new country.
What is one thing you'd tell your younger self about your future career?
I would tell my younger self that it is okay to rest — and it will help me be a better leader and collaborator.
When I was younger, I pushed myself so hard because I had a mission and I saw a need to fill. But without the balance of relaxation and rest, I suffered from burnout until I learned what it meant to put work away and get to know the layers of myself that aren't just about productivity. Now, I really prioritize as much balance as possible — my answer to "Any weekend plans?" is usually some sort of animal encounter, niche themed event, or cozy night in.
Welcome to the team, Val! You can keep up with Val's work on the Juniperus Instagram, or connect with her on LinkedIn.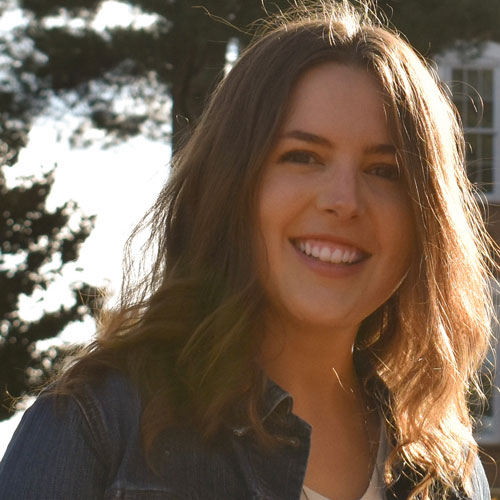 Julia Regeski
Social Impact Strategist
Julia Regeski is a content creator who believes that everyone's story deserves to be told in a way that's intentional, compelling, and authentic. Her work experience has been focused on advancing meaningful social causes, and includes advocating on behalf of Georgia's environmental resources and bringing together nonprofits in the wake of natural disasters. When she's not using her communications skills to try to make the world a better place, you'll likely find her reading, practicing yoga, or adventuring in the great outdoors.