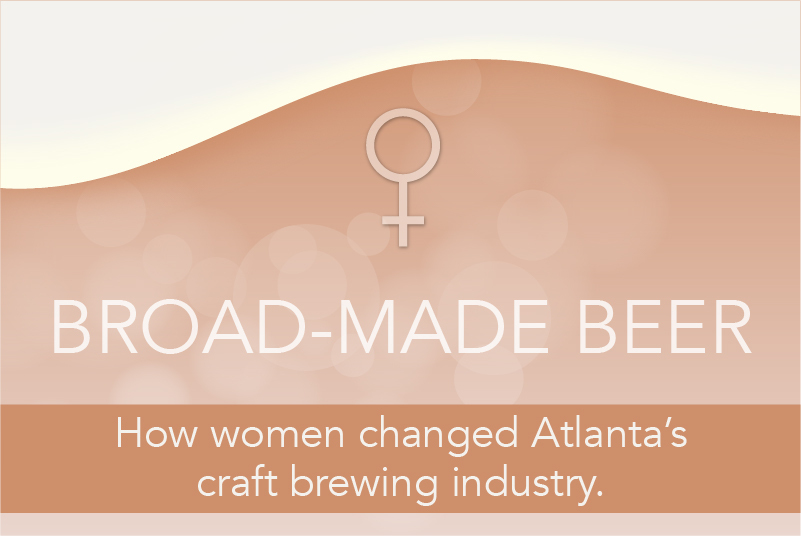 Alaina Kiewit starts her shift at Second Self Beer Company at 11 a.m. She passes by the "beer for everyone" mural painted right onto the main bar before heading into the back, where she'll happily begin the lengthy process of crafting the varieties of brews Second Self is known for. 
Her tasks for the day include mixing, transferring, and raking more than 700 pounds of grain, taking it one fifty-pound bag at a time. "Everybody makes fun of me, but I have a system," Alaina says.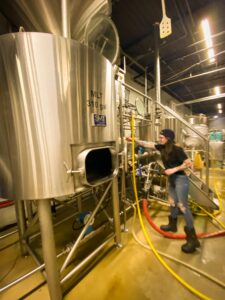 Alaina is one of two women that work full time at Second Self. In 2019, the Brewers Association reported that about 7.5% of breweries that participated in a diversity survey employed a female brewer. The trade group also said that women make up 37% of non-production, non-service roles. Black employees make up about 4% (source).
The lingering lack of diversity in craft beer has come under intense scrutiny as of late, specifically in Atlanta. What began as a few brave women calling out racist and sexist attitudes at the popular Beltline-based New Realm brewery soon developed into a locally-led movement of honesty, accountability, and camaraderie. The Atlanta Journal-Constitution listed other breweries like SweetWater Brewing Co., Tucker Brewing Co., Scofflaw Brewing Co., Pontoon Brewing, Line Creek Brewing Co. and Reformation Brewery as being problematic via social media accounts like @emboldenactadvance.
"I remember when I first saw the article about the women and how awful their experience was, and I remember thinking to myself 'that's horrible, and I hate that' and then being like 'I've never felt that way at work,'" said Alaina. "I remember wanting to share it on my Facebook page and feeling like everything I wrote out couldn't really do it justice for how I felt. This is so much more than a post. I see this happening in real time."
Alaina counts herself lucky that neither she nor her general manager, Carly Tritley, have experienced the kind of bias in brewing that so many others remarked on. "If we ever do feel uncomfortable, we are comfortable enough to come and say 'I don't think this is ok,'" Carly said. 
 

 

View this post on Instagram

 
Even without accusations of bias levied against Second Self, the brewery released a statement in solidarity with women of the industry, and called the conversation long-overdue. 
Conversation is one thing that might set Second Self apart. Both Carly and Alaina express that they feel comfortable coming to the brewery's owners about anything and everything, with absolute confidence that proactive steps will be taken.
A Second Self regular since 2018, Alaina knew long before applying to work there that Second Self was different. "I knew they were good people," she says. "If a woman is trying to get into the industry and she doesn't already know the people in charge, it could become an uncomfortable situation.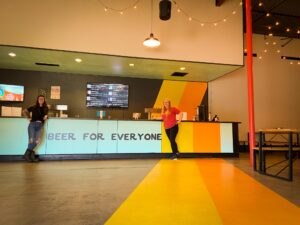 "I'm lucky, and I hate phrasing it like that, because it shouldn't be that way," she adds. "You shouldn't have to be lucky to not have to deal with that. You just shouldn't have to."
Relationships in the craft brewing network can be tricky. What might come off as insular and exclusive could also be called passionate and specialized, explains Carly. "Usually if you work at a brewery,  you go work at another brewery. You stay in that community," she says. "I think it can be intimidating for outsiders as well. Everyone knows everyone. It's a really fun industry but it's also very tight-knit."
While the craft beer camaraderie may have played a factor in keeping oppressive ideals so prevalent for so long, that same closeness may have been key to its recent shifts in attitude. 
"Any person that has been negative towards a female in the brewing industry, they're a little bit more hesitant to be that way now," Carly says. "I've heard of guests complaining about males being inappropriate and owners being like 'it's ok he's my friend,' so now that this happened they're not going to let that slide."
In addition to changing mentalities, the movement has also led to tangible changes in how women in the industry work. Groups like Pink Boots Society and festivals like Dames and Dregs have helped women rally around each other while demonstrating the skill and taste women brewers bring to the table. Changing work policies, too, may not have been possible without the shift in employee power and making it clear to brewery owners that their decisions are not without consequence. The Georgia Brewer's Guild, for example, recently helped employees like Carly get full-time benefits.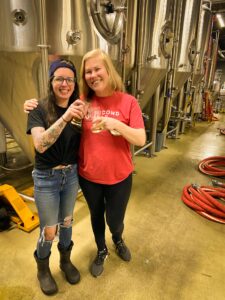 "Hopefully the women who kind of started the whole thing see the impact that it's having," Alaina said. "It created the platform of 'we can speak out now,' when they felt like they couldn't," explains Carly. "It sucks that this had to come out, but there are a lot more benefits that came out of it than negatives."
Juniperus is proud to work with Second Self Beer Co and their mission to help everyone – of all genders – sip into their Second Self and pursue their dreams. Learn more about their incredible brews and community space at secondselfbeer.com.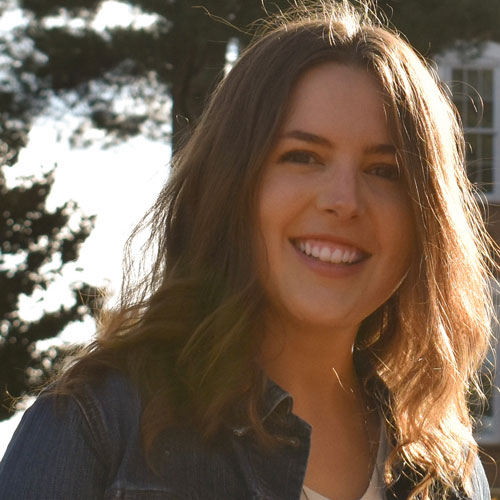 Julia Regeski
Social Impact Strategist
Julia Regeski is a content creator who believes that everyone's story deserves to be told in a way that's intentional, compelling, and authentic. Her work experience has been focused on advancing meaningful social causes, and includes advocating on behalf of Georgia's environmental resources and bringing together nonprofits in the wake of natural disasters. When she's not using her communications skills to try to make the world a better place, you'll likely find her reading, practicing yoga, or adventuring in the great outdoors.