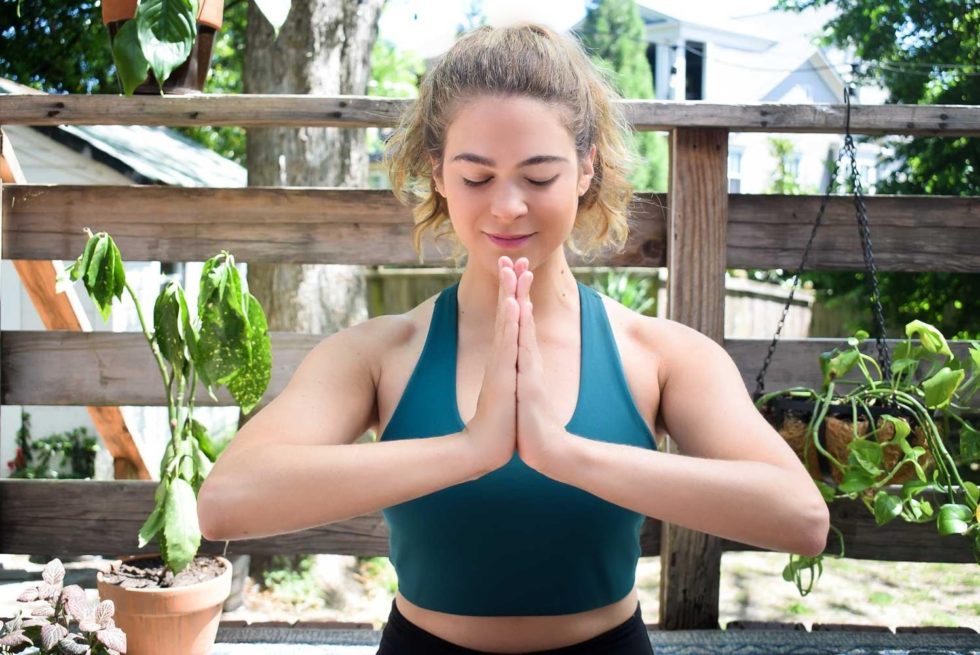 Above: Juniperus co-founder and certified yoga instructor, Alicia Harper, practices from home.
It's virtually impossible to calculate the massive number of professionals that have transitioned to working from home as a result of the devastating COVID-19 pandemic. Not only has this move put pressure on our wi-fi routers, it's also tested our creativity. But could this massive change of scenery have its advantages?
Juniperus co-founder Alicia Harper thinks this is the case, as she never felt quite at home in a traditional office setting. She and co-founder Amber Schreiner run the digital marketing and social strategy agency out of their converted she-shed. Before the pandemic, the two used Atlantas coworking startup Switchyards for meetings and networking. 
Currently, the she-shed acts as home base. "It's a place where we can step away and feel like we have space to work and be creative," says Alicia, who coming from NYC, knows just how lucky her team is to have a space like this. "We've got a huge dry-erase board where we flesh out what we're doing for each of our clients and we cross it out as the week goes on."
The Juniperus team relies on more than just a giant to-do list to stay relevant. Amber and Alicia have turned to some creative communications to make sure their clients stay in the know. In addition to regular video calls to end-of-week wrap ups, project management platform Trello allows clients the ability to keep up with their campaigns in real-time. "Our clients are privy to exactly what tasks we're working on and what stage we're in, so they can check in whenever they feel."
And in terms of messaging, the show must go on. "We're trying to be sensitive to what we're saying within our marketing, and not necessary screaming 'sale' [based] on the fact that a lot of people are struggling during this time; but we still need to continue posting and being active and being on people's feeds."
Important work considering Juniperus represents clients from across multiple industries affected by the global pandemic. One such group the agency is focusing on right now is local political candidates. Many politicians depend on face-to-face events not just for fundraising, but for connecting with constituents; With plenty of local elections delayed, candidates are being forced to adapt and adapt fast.
"Advertising on Facebook using paid ads is a great way for candidates to reach people during this time," says Alicia, on why Juniperus has decided to offer a discounted webinar to candidates on how to use this platform to pivot their campaign plans. "We also have a series of paid webinars that people can access that educate about subjects like SEO, paid advertising, content creation and more."
While Juniperus will be sharing some of the secrets of successful social strategy in their webinars, Amber and Alicia will also be brushing up a few skills themselves. "A lot of platforms such as our social scheduling platform, Later, are sending educational emails and offering deals to help people with all the time on their hands to learn a new skill, " said Alicia, who plans on mastering some Adobe skills for the time-being. "We're definitely taking advantage." 
She's not alone. Millions are taking this time to brush up on certifications, pursue a hobby, or get productive wherever possible, despite the fact that they may be processing an international crisis in ways unnoticed. "This is such an odd time, that it's definitely normal to have feelings of anxiety and sadness," says Alicia. "The main thing is not to expect that you're going to be extremely creative or productive every single day. You just have to take each moment as it comes."
For the Juniperus team, staying productive means taking a step back, physically and mentally. "We eat lunch away from our computer and have been learning how to cook new and interesting dishes at night," Alicia says. Alicia has also relied on her yoga practice as a way to stay moving and check in with herself.
"You need time to step away from work, and even take a break from the news to see how you feel that day." Feelings of all kinds abound online these days, with so many being affected by a dramatic change in routine, financial shortages, health concerns, and more.
But there's also hope. Photographers are offering drive-by sessions. Grandmas are spending hours sewing masks for hospital workers. It's become clear—people are turning to creativity to get through this time. While Juniperus may not know how much longer we'll have to hunker down at home or exactly how long the wifi will stay strong, we do know that right now, we're feeling pretty inspired. Are you? We'd love to hear how!.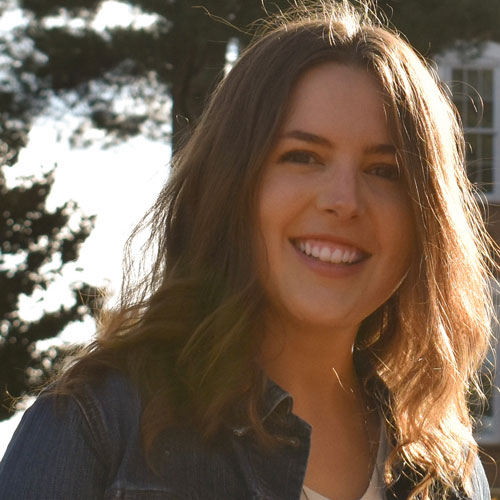 Julia Regeski
Content Creator
Julia Regeski is a content creator who believes that everyone's story deserves to be told in a way that's intentional, compelling, and authentic. Her work experience has been focused on advancing meaningful social causes, and includes advocating on behalf of Georgia's environmental resources and bringing together nonprofits in the wake of natural disasters. When she's not using her communications skills to try to make the world a better place, you'll likely find her reading, practicing yoga, or adventuring in the great outdoors.