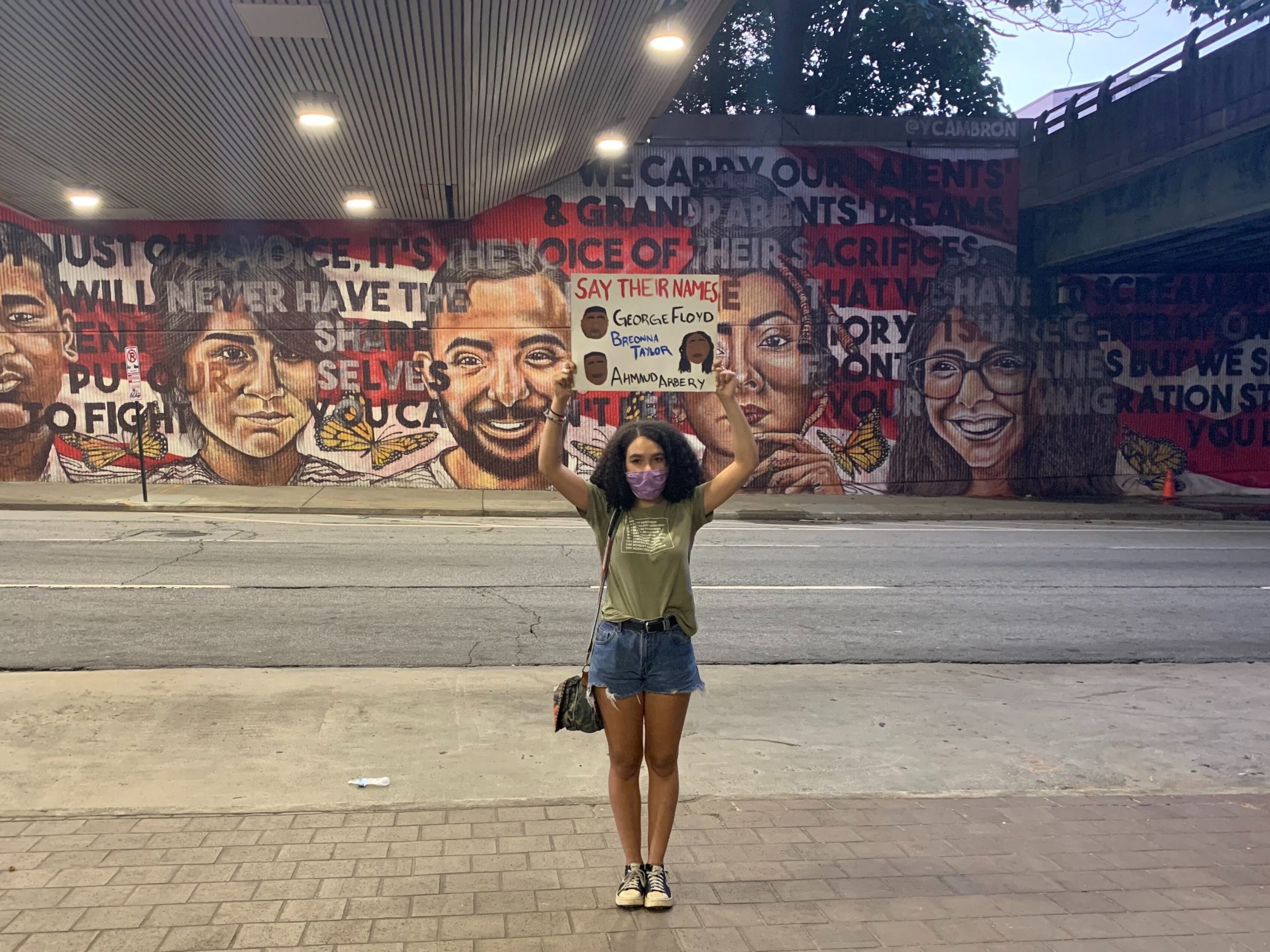 It's another night of protests in Atlanta, and a police officer is escorting me past the SkyView ferris wheel downtown with my hands tied behind my back, ziplock cuffs on my wrists. The air is thick and cloudy and filled with tear gas and all around me I hear the sounds of people crying, yelling, coughing and the unmistakable sound of rubber bullets shooting out and ricocheting off the ground. The city looks like a warzone and I've become its prisoner.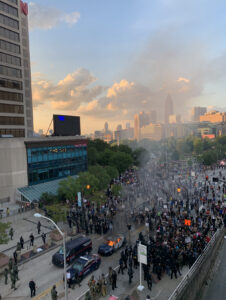 ​I've been to every protest I could since I was 15, but none felt quite like this. Continued senseless crimes against black bodies combined with almost four years of the Trump administration, a pandemic exposing the inequities at America's core and an unprecedented military presence made for an experience unlike anything I had ever been part of. The energy- the anger, the frustration and the grief- was almost palpable.
The protests were sparked by the murder of George Floyd on May 25th. But it was also sparked by the murder of Breonna Taylor, Ahmaud Arbery, Tamir Rice, Trayvon Martin, and Sandra Bland. It was sparked by the murder of Emmett Till and countless other names. It was the culmination of decades of police brutality, racism, systemic oppression and generational trauma that all came to a head when we as a nation watched the footage of George Floyd's death. 
Just a few nights before, the nation watched as Minneapolis, Floyd's home town, erupted and protesters clashed with law enforcement. It was only a matter of time before the protests reached Atlanta, other major cities, and worldwide. I was there on Friday, May 29th, when the first large protest took place in Atlanta with a couple of friends and my younger sister. Although I had taken my sister to plenty of protests and marches before, I was hesitant to bring her this night given how tense relations were and how intense some of the protests had been across the country.
We looked on as conversations between police and protesters went from heated arguments to physical altercations. We watched as the crowd cheered when protesters climbed onto the iconic CNN center sign waving a Black Lives Matter flag. We watched as 13 police cars were destroyed, one being set on fire.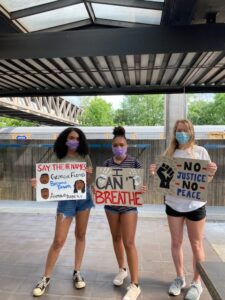 As an intern with a political organization, and someone familiar with the political process, I knew that this violence would be used to discredit the BLM movement. I knew that this approach could potentially cause more damage than good. After that night, the National Guard was called to Atlanta and a 9:00 pm curfew was enacted in the city.
But as an activist, and as a woman of color who's grown up in underserved communities and who has witnessed police brutality firsthand, I understood their anger. I understood that in that moment, a peaceful protest felt futile. One life is worth more than any physical object, more than every material possession. My sympathy lies with the loved ones of lives taken too soon because of their blackness, not for the destruction of physical institutions or replaceable objects.
The night before my arrest, I had been tear gassed while protesting peacefully well before curfew took place. I realized no matter how peaceful we were, people were still going to get hurt. So I came back the next day with a first aid kit and a gallon of cold milk to wash the teargas from protestors eyes.
As curfew neared, we assembled ourselves to prepare for what could happen when the clock struck 9:00. White "allies" kneeled and linked arms to form a barrier against a line of law enforcement officers in full riot gear. As we stood shoulder to shoulder, all wearing masks, I was overcome with emotion as I allowed myself to feel the full extent of what was happening. I thought, "This is what "Power to the People" means, this is what Democracy looks like."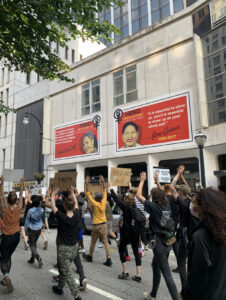 Suddenly, the line of officers pulled out their shields and began marching forward, throwing tear gas canisters and breaking up the barrier that we had formed. We realized another wall of officers was behind us as to close us in. All around me, people were coughing from tear gas and I heard shots firing as the police fired rubber bullets at us. I started running but stopped to pour milk on a woman who was alone in the middle of the street crying because she had been gassed and couldn't see. 
By this point, I was separated from my friends and on my own. Every side street had been blocked off by military personnel and there was no way out except through a construction site People began scaling the fence and running through the site, until the fence finally gave out and broke, allowing us to jump over and run through. 
My adrenaline was pumping as I ran under metal poles and over loose bricks, tripping and hitting my head more than once. I finally reached an opening in the fence and slipped through, only to be faced with a wall of National Guard members and a tank sitting in the middle of the street. I realized they had planned to trap us there, treating us like the enemy instead of U.S. citizens who were simply fed up. 
The police put ziploc handcuffs on my wrists and led me back into the thick cloud of tear gas still lingering in the air. My arresting officer pulled my mask up to cover my mouth and nose and chuckled, "Yep, you're gonna feel that in a second." Sure enough, I suddenly felt choked and my eyes began to burn. I was moved to a windowless prisoner transport van with no A/C and eventually taken to Fulton County Jail where I was fingerprinted and had my mugshot taken. I was eventually placed in a solitary cell by officers who told us they were going to "make an example out of us." 
My offense was a curfew violation.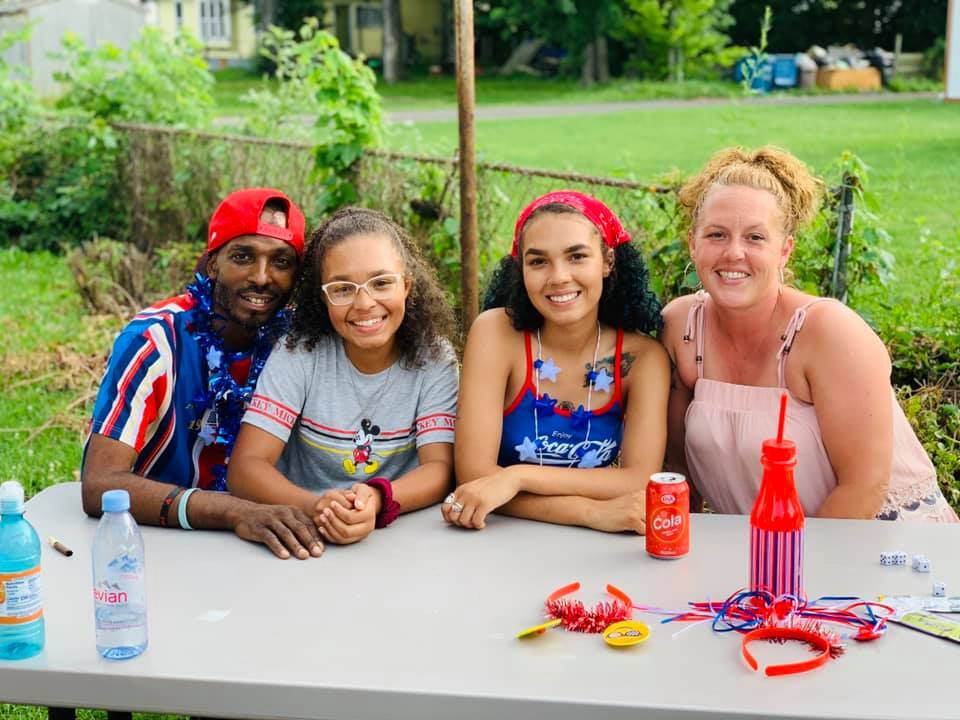 Ke'Aira McDowell
Student and Activist
Ke'Aira McDowell is an activist, an organizer, and a student at Georgia State University. She is pursuing a degree in geoscience with a concentration in urban studies and a minor in philosophy.