IF App Makes a Statement (If This, Then That)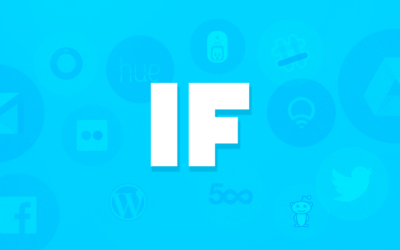 The IF app, originally called IFTTT (If This, Then That), is an automation service that is making waves in simplifying the way you live. IF calls on 167 "channels" or services to communicate with each other using "recipes" as commands to string together the digital and the physical world. Think about it like this:
If
you do something,
then
it will trigger something else to happen.
After downloading the free app and creating a username and password, the user is able to scroll through recipe collections, including featured and trending, or browse all of the 18 million recipes stored within IF. The collections tab collects recipes for sports fans, recipes to streamline social media, recipes for music lovers and so on. And the recipes aren't all just for fun.
The most popular recipe on If is "back up my contacts to a Google spreadsheet," for those who want to ensure their phone contacts are never lost. Another most popular is "receive an IOS message if it is going to rain tomorrow." The recipes even go so far as to allow you to turn on your Phillip lightbulbs when the sun sets or notify you when a spacecraft is directly overhead.
IF has done some rebranding recently, and released three new apps: Do Camera, Do Button and Do Note. With Camera, the photos you take can automatically be sent to loved ones or uploaded to the app of your choosing. With Note, use a piece of text and invite friends to an event or post through any medium. Do Button lives on your home screen and enables you to execute a "recipe" in one quick tap.
For something that claims to be so simple, explaining all that IF does can be a task. But once downloaded, IF's capabilities speak for themselves. While some feel it's intended for tech nerds, many agree that Linden Tibbets, the company's co-founder and CEO, is onto something huge.